How to Winterize Your New York Home
Put an end to chilly rooms and high heating costs by making the right improvements in the right order: We can help!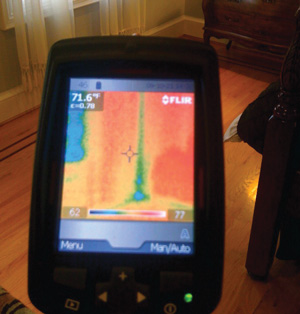 Detection and correction. Because there are many different things you can do to winterize a house, it's important to accurately diagnose major comfort and energy problems first. Our experts use an infrared camera (shown above) to reveal air leaks and missing insulation. Halco suggests that upgrading attic insulation be a top winterization priority.
No one wants to live in a chilly house, or to have rooms that stay cold even when the rest of the house is comfortable. Along with this discomfort, many homeowners also put up with high winter heating costs.
Winterizing your home can put an end to such problems, so it's worth learning more about these comfort-enhancing, energy-saving improvements.
The energy improvement specialists at Halco can inspect your home and provide you with an estimate that includes the most important improvements that will make the biggest difference in comfort and energy savings.
Winterizing Your Home Can Be Easy & Cost-Effective!
Contact us today to live comfortably and save energy year-round! We provide Free Estimates for adding home and attic insulation, air sealing, and other home energy improvements.
We work in Rochester, Ithaca, Syracuse and nearby areas throughout New York.
Before you put the blame on your heating system, take a look at your home's insulation and "building envelope"
The term "winterizing" refers to a wide range of improvements or (in some cases) repairs that can counteract the adverse effects of cold weather. In other words, winterizing aims to maintain comfortable interior temperatures despite frigid outdoor conditions.
Winterizing has another benefit: It reduces your heating costs. In fact, with the right winterizing improvements, it's possible to cut your heating costs nearly in half.
It's a common mistake to blame high heating costs and cold rooms on the heating system. This certainly can be true if your house has an old, inefficient furnace or boiler. But even the most efficient HVAC system can't overcome common "building envelope" deficiencies like inadequate insulation and air leaks.
Poor insulation allows heat to escape from your house by conduction. Air leaks waste energy by convection (air movement). In fact, they do double damage -- allowing warm air to leak out (exfiltration) and cold air to leak in (infiltration).
Air sealing and insulation upgrades are often the most important strategies for winterizing your home
It's not easy to pinpoint where warmth is leaking out of your house and where cold outside air is leaking in. That's why many homeowners decide to have Halco perform a blower door test and a free energy-saving assessment.
The blower door test will locate big and small air leaks that need to be sealed, and also establish a leakage rate that can be compared to the energy-efficient rates recommended by the Dept. of Energy.
Halco's free insulation inspection will reveal where insulation upgrades can have the biggest impact on comfort and energy efficiency. We can even use special infrared cameras to show you where air leaks and missing insulation are creating cold spots in your house.
Winterization work to improve the building envelope should always be done before a home's heating or cooling system is replaced.
A more airtight house with higher insulation levels means that you can replace old HVAC equipment with smaller units, saving on installation cost as well as on ongoing operation costs.
What energy-saving improvements are right for your house? For an expert assessment of your home's energy profile, contact Halco to schedule a free inspection and insulation estimate in Ithaca, Rochester, Syracuse and throughout the The Finger Lakes area of New York..