Heating, Renewable Energy and More!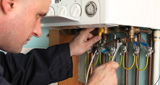 Halco is your neighborhood's expert HVAC contractor. We have offices around Canandaigua, New York and operate for 24/7 emergency service. We specialize in all types of HVAC services including heating and air conditioning repair, tune-ups, and service, furnace repair, renewable energy and plumbing. Our goal is simple. We want to be the best home improvement providers in NY. To do this, we specialize in a whole-house approach that focuses on your HVAC system, home insulation and air sealing. This strategy has helped our clients maintain their air conditioning and heating systems for longer periods of time by improving their systems efficiency.
When you're in the middle of winter, the last thing you want to deal with is a broken heating unit. We offer expert inspections and servicing for both air conditioning and heating units. By having your heating system serviced by certified professionals like the folks at Halco, you can avoid letting a small, fixable issue turn into major problem and stay warm this winter! Contact us today for FREE heating service estimate!
HVAC Services:
Air Conditioning Repair
Air Conditioning Replacement
Air Conditioning Installation
Air Conditioning Tune-Ups
Tankless Water Heater Installation
Central AC, Ductless AC Services
Residential and Commercial Heating and Cooling

Furnace Service
Furnace Replacement
Boiler Repair and Service
Boiler Replacement
Ductwork Repair and Sealing
Integrated Renewable Energy Systems
Spray Foam, Cellulose, Blown-In, Rigid Foam Insulation
Professional Home and Attic Insulation in Canandaigua, NY
Often people don't realize that their attic might not have the right insulation or enough of it. When your attic is improperly insulated, it an allow heat to escape through the roof during the colder months or trap uncomfortable heat inside the house during the summer.
We also offer great insulation services for basements, crawl spaces, and even garages! We utilize spray foam insulation, which expands to seal cracks and gaps to keep your home cool and comfortable. Call us today to get a free estimate and start looking through your options for a better, more comfortable home!
Renewable Energy and Energy-Saving Services in Canandaigua, NY:
If you couldn't tell by now, our mission is to increase our customers' home energy efficiency while improving their home's overall comfort. In addition to HVAC and plumbing, we offer a large selection of renewable energy services including solar panel installation, geothermal energy, and more!
Check out the list of all of our services:
Residential and Commercial Renewable Energy
Solar PV
Geothermal Heating and Cooling
Water Heater Repair and Replacement
Tankless Water Heater Installation
Residential and Commercial Heating and Cooling
Duct Cleaning
Dryer Vent Cleaning

Central AC, Ductless AC
Heating and Cooling Repair, Service and Maintenance
Residential and Commercial Plumbing Service and Design
Residential Electrical
Ductwork Repair and Sealing
Integrated Renewable Energy Systems
Spray Foam, Cellulose, Blown-In, Rigid Foam Insulation
And more!
Professional Gutter Installation in Canandaigua, NY
Are you tired of having to climb up a ladder and clean out your gutters? Halco offers a new, safe solution to all your gutter problems! The GutterShutter System is the strongest gutter system in the world, designed with premium-grade aluminum so it won't bend under heavy debris. Our patented gutters and gutter guards also stop debris from clogging up your gutters, so you will never have to climb up a ladder again. Save yourself the trouble and let our experts install The GutterShutter gutter system on your home in Canandaigua today! Schedule an appointment with our gutter experts and receive a free estimate on your service.
Free Renewable Energy Estimate in Canandaigua
Our energy experts not only have experience installing energy-saving products, they will also all of the renewable energy options available and explain which ones will help you to achieve your goals for your home or office.
To make things simple, we offer a free, no-obligation estimate for all of our home energy and renewable energy services in Canandaigua, NY and surrounding areas.
Contact us today to learn more about how we can help increase the energy efficiency and comfort of your Canandaigua home!