We Offer Spray Foam Insulation Services Throughout The Finger Lakes Area
Providing comfortable homes in greater Syracuse, Ithaca and Rochester New York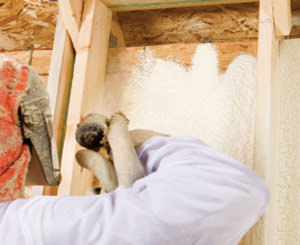 Over the course of time, there have been a great number of materials used as wall insulation. From the early days of animal skins to saw dust to the "modern" usage of Vermiculite. Then when pink fiberglass insulation came on the insulating scene, the "evolution" of insulation seemed to stop.
That "old school" fiberglass batt insulation that we still use today is effective and does a good job. But there is an even more effective insulation available today. That is a polyurethane spray foam.
Using a spray foam insulation in your walls is a great way to save energy and money. Halco serves Ithaca, Rochester, Syracuse, and Lansing, Webster, Auburn, Fairport, Pittsford, Cortland, Canandaigua as well as all surrounding towns.
We are the insulation contractors to call to install insulation in the home, whether it's in the attic, basement, garage, crawl space or more. Aside from spray on insulation, we offer all types of insulation materials, including blown-in, cellulose, rigid foam, radiant barrier and more!
Foam insulation comes in two types:
One-part foam This spray foam is the most widely known most commonly used. It can be purchased at corner stores and home improvement stores and comes in single-use, aerosol cans. It is often called an "insulating foam sealant" because it expands to fill in gaps and spaces, acting as an insulation and an air sealer.
Two-part foam Primarily, two-part spray foam insulation is used when large areas need to be covered. Two large-sized containers, one containing a resin and one containing a reaction compound, are connected by a single spray gun. The two components are then sprayed together and allowed to expand on the area insulated.
Spray on insulation works better because:
It Has a Greater R-value. Polyurethane spray foam insulation has a higher R-value than most insulations; usually around R-6.2 per inch or higher.
It Acts As an Air Sealant: Spray foam expands and fills in every opening or crack it comes in contact with. As it is also incredibly sticky, it stays in its place, keeping those voids permanently sealed. Spray foam is a prefect complimentary insulation/sealant with blown-in attic insulation or fiberglass batt insulation.
It's Waterproof: Water, even in a vaporous form, will soak into and ruin fiberglass or blown-in cellulose insulation. Being a plastic compound, poly spray foam is fully waterproof and will not absorb moisture.
It Leaves No Gaps: Even if your insulation has a void in it of as little as 5%, that can lower it's performance level by up to 50%. Fiberglass insulation often falls out of place or is installed with gaps when it is placed around electrical wiring or plumbing. Spray foam expands and fills those gaps, eliminating the chance of shifting and spacing.
Closed cell & open cell spray insulation: Our professional installers are trained in the application
The installation of spray foam can be a bit tricky for the average homeowner. So a trained professional insulation engineer, like the certified experts at Halco, is the best bet when you decide to install spray foam. Temperature and expansion rate are just two elements that need to be considered when spraying foam. We can help you choose the best foam insulation depending on the part of the home you are insulating. Our experts can also explain the differences between spray foam vs. rigid foam insulation.
Spray rate and how heavy a layer of foam is needed are other aspects that need to be addressed. Since spray foam expands, a coating that is too heavy will leave a lot of excess, dried foam, making clean up a hassle. Also because of its expansive properties, using spray foam around windows and doors can cause jamming and frame warping.
Spray Foam Insulation is the Way to Go Today!
We are the spray insulation contractors to contact for a FREE spray insulation estimate in Syracuse, Ithaca, Rochester and Auburn, Webster, Lansing, Pittsford, Cortland, Canandaigua, Fairport, Geneva, Penfield, Brockport, Hilton, Spencerport. Installing insulation in your home can help improve the feel and energy efficiency as well as help to lower energy costs.