Air Sealing Strategies for Your The Finger Lakes Home
Finding the best air sealing techniques & materials for your home
This video explains the importance of air sealing in relation to insulation when it comes to energy efficiency.
With the visual inspection and blower door test complete, you should have a pretty good idea of how much impact leaks are having on your energy use and comfort. Now what? You're probably wondering: "With so many leaks to plug, where do I start?" Don't worry. We've got you covered. Here at Halco, we take a simple, common-sense approach to air sealing your home. 
Call us at 1-833-844-2622 or click the button below to schedule a home energy assessment and get a free quote for the home energy improvements you need.
What areas of the house are most important?
It's important to seal leaks in the attic first (A) because this is where the most significant leakage occurs. Sealing basement (B) and crawl space areas should be the next priority. Air sealing all of these areas in your house eliminates a major source of cold air infiltration. With A and B zones taken care of, what remains is conditioned space (C), the main living area of your house.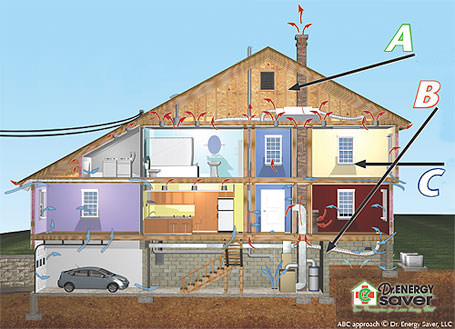 Are caulking & weatherstripping enough to seal leaks?
Caulking and weatherstripping are easy and effective air-sealing techniques that can provide quick money-saving results. Caulk is typically used to seal cracks and openings around stationary door and window frames, and weatherstripping is used to seal moving objects such as operable doors and windows. Caulking and weatherstripping can be used to solve obvious air leakage, but there are likely more cracks and openings around your house that you can't see. A home energy assessment and blower door test can help identify all the areas where your home is losing energy. 
Insulation should be part of your air sealing project
To make the biggest impact on your home's comfort and energy efficiency, it's important to make sure that your home is properly insulated once air sealing is done. There are a variety of insulation options that offer insulating value as well as air sealing characteristics.
Foam insulation can be blown into walls, attic spaces and between floor joists to insulate and reduce air leakage. Insulating spray foam can be used to seal air leaks around window and door frames, and electrical and plumbing penetrations. If rigid foam insulation panels are used, spray foam, caulking or foil tape can be applied between the panels to create a tight seal.

If you need to add more insulation inside your home's exterior walls, dense-packed cellulose provides air sealing characteristics to reduce air infiltration year round, therefore improving energy efficiency and comfort.
Contact us today for an air sealing estimate
Contact us today at 1-833-844-2622 to get a quote in Lansing, Webster, Auburn, Fairport, Pittsford, Cortland, Canandaigua or any surrounding area. Halco specializes in a variety of air sealing strategies that will keep your home airtight and energy efficient.