Air Sealing Contractors Serving The Finger Lakes Area
We can reduce cold drafts in your home with expert air leakage testing and sealing in New York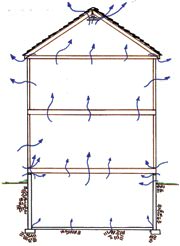 Nearly every home in New York has air leaks that cost homeowners a noticeable amount of money in energy and heat loss every year. Halco has the experience and proven solutions to turn a leaky and drafty house into an efficient and comfortable home. We can determine where your house needs improvement and upgrades, recommend the best way to improve those spots, and then use our patented products to seal the gaps and holes throughout your house.
Imagine this scenario: It's a cold and blustery morning in January. Your home is warm and comfortable. You walk over to a window in your home, open it up and leave it open all day. As day turns to night, you continue to keep that window open, letting all the heated air in your house flow right out and allowing all that cold air to rush right in. You are not phased by this air loss and you remain that way, even when the heating bill comes in the mail.
In reality, the added-up energy and heated air lost through the leaks in your home right now is about the same as having that window open all the time. Those little gaps certainly add up!
Halco is Here to Close the Gaps!
There are so many unseen gaps, spaces, and holes in and around your house that allow air to leak out. Halco can perform a blower door test that will not only find these leaks but also determine how much conditioned air is leaking out. Once the leaks have been located, we can recommend the best air sealing techniques to bring new life to your home.
Give us a call or send us an e-mail today to start your home on the road to recovery. Our service area includes Rochester, Ithaca, Syracuse and Lansing, Webster, Auburn, Fairport, Pittsford, Cortland, Canandaigua as well as surrounding areas.
How Does Air Travel Through Your House?
There is a natural law called convection. Convection causes warmer air to rise up. Warm air in your house rises up and sneaks through all the gaps and spaces that exist, like around recessed lighting and electrical outlets, eventually exiting up through your attic. The warm air that leaves through the attic is replaced by new, cooler air that is drawn in from the lower parts of the house; the basement and crawl space. This cyclical transference of air from bottom to top and back is called the "stack effect".
Little air leaks can mean big energy loss! It's easy to see how all of the air leaks in your house can add up to a loss of heat and money. If conditioned air is escaping out of your home, your heating and cooling systems need to operate on a higher level, constantly turning on and re-conditioning the air that is lost. That means more waste of energy and higher bills.
If you notice dust and dirt build-up on your insulation, you have air leakage! The insulation is acting like a filter, collecting the dirt particles that are being carried by the leaking air.
Air Sealing Your Home for Energy Savings
High energy bills and ice dams are some of the problems caused by air leakage and poor insulation in this cape house. Watch this video to see how the right air sealing and insulation methods can make your home comfortable and efficient.
Your House Was Built with Air Leaks
From the moment your house started being built, it had air leaks in it.
Carpenters and framers built the outer shell of your house and there were many joints and gaps involved. Then, when all the wooden beams and studs were in place, a crew of contractors came in and began cutting holes in the wood in order for the plumbing work, electrical wiring, and ductwork to fit and run through your house.
A house is not one solid object. It is made up of thousands upon thousands of different components that are all attached together. Every one of those joints or junctures is a gap. And every gap is a space where air can pass through.
The holes that were created were needed. But they do leave ample gaps for air to leak out.

The spaces that are throughout your house vary in size. There are small gaps around electrical outlets and light switches. Larger spaces often appear around plumbing fixtures and pipes. Lighting fixtures and ceiling fans provide ample room for air to escape up and out of your house.
Air Seal First and Then Insulate

As stated, there are many air leaks in your house where heated air can leak up and out of your attic. To add insulation to the attic without sealing those leaks would not make your home more energy efficient. Insulation is designed to slow down heat transference, not air flow. So the air is still flowing upwards and out. And now those air leaks are more difficult to get to as they are now buried under even more layers of added insulation.
Halco covers all aspects of air sealing your attic or any other areas of your home that are leaking air. We specialize in both air sealing and insulation installation.
Areas in your home that should be sealed
The spaces around pipes
The space around chimneys
Gaps surrounding ductwork
Where the framing joins the wallboard
Ceiling lights
Pull-down stairs to the attic
Along the rim joists

Sump pump holes
Around basement windows
Around window frames and door jams
The gap around plumbing penetrations
Around ceiling, bath and kitchen fans
And a number of other places.
Air Sealing Needs a Professional Touch
Sealing air leakage is a once-and-done improvement
You can cut your heating and cooling bills by up to 20% or more by having your home professionally air sealed.
Once air sealing is done, you never have to do it again. There is no further maintenance.
Closing up all those holes and gaps in your house means less air leakage and more money saved on your heating and cooling bills. Air sealing, along with proper insulation, can make your home more comfortable, with fewer cold drafts, and more efficient.
But sealing those leaks is a task that is more difficult than it seems. In order to locate the leaks, special tools are needed. Also, you need to know where to look in order to find the leaks in the first place. Not many homeowners know all the common (and uncommon) leak locations.
When the leaks have been found it is also important to know which sealants would be best suited to close up the gaps.
Halco suggests using a two-part, expanding foam. This waterproof foam expands to fill in all spaces and cracks and it acts as an insulator as well. Spray foam can effectively insulate and seal air leaks in one stop. Our experts make it easy to air seal your home and use the best air sealing techniques to effectively seal leaks.
We can show you the difference air sealing makes immediately
The numbers don't lie. There are savings to be had when you professionally air seal your house. But you don't have to wait a few months to compare the bills and see the savings. You can witness them first hand with Halco's services.
Our air sealing engineers can re-do their blower door test after the air sealing job is complete. The rate of air leakage from the first test can then be compared to the second test and you can see the immediate results and the savings you will see in the years to come.
As a full-service energy improvement contractor, we also provide insulation installation, renewable energy solutions, HVAC repair and servicing, comprehensive home energy evaluations, plumbing, electrical and more.
The end to drafty rooms and wasted energy starts here
To make your home more efficient and comfortable, call 1-833-844-2622 or contact us online and set up an appointment for your FREE home evaluation and air sealing estimate.
Halco serves Ithaca, Rochester, Syracuse, Geneva, Penfield, Brockport, Hilton, Spencerport, and all nearby towns.