Radiant Barrier Insulation Company Serving The Finger Lakes Area
Improve comfort and save money & energy with our reflective radiant insulation barrier in NY
Watch this video to see why a radiant barrier is perfect for homes in a hot, southern climate.
Halco's technicians are trained experts in the field of energy conservation and insulation installation. There are many areas of your home that have the potential to be an energy loss. We have the expertise to find those areas and fix them.
An insulation evaluation by Halco followed by installing attic insulation and radiant barriers is the best way to keep your home energy efficient and comfortable throughout the year.
Call or e-mail us for a FREE quote to install radiant barrier insulation. Halco is a leading insulation company and HVAC contractor serving Rochester, Ithaca, Syracuse and Lansing, Webster, Auburn, Fairport, Pittsford, Cortland, Canandaigua and nearby areas throughout New York.

Radiant energy makes your attic hot just like the inside of your car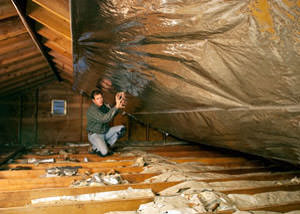 Want to save up top 10% or more on air conditioning costs? Have radiant barriers installed in your attic!
Nearly all of us have experienced the following scenario. Our car has been parked in the summertime sun for an hour or so. We open the door to get in and feel a blast of scorching hot air billow out into our face and the vinyl seats are practically untouchable. It seems to take forever for the temperature to drop enough for us to get in the vehicle.
The experience is brought to you by radiant energy from the sun. Solar energy from the sun heats up the inside of your car and continues to increase over time until the temperature inside your car is actually hotter than the outside air.
Just like the temperature in your car, the temperature in your attic can dramatically increase through the sun's heat. Attic temps can reach upwards of 120 degrees or higher. That increase in temperature has an effect on your home cooling system, forcing it to turn on, work harder and cost you more each month in your electricity bill.
How Radiant Barriers Work
Radiant barriers are also called "radiant barrier insulation" because the attic barriers slow down the transfer and flow of heat, just like insulation.
Radiant heat barriers are designed to not only slow down heat flow but to actually reflect heat back in the original direction that it came from. There are rigid foam insulation boards that have a covering of shiny foil that adds that reflective element to the home insulation.
Radiant barrier foil reflects heat away from your attic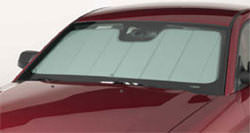 To keep your car cooler in the summer, there are foil-coated, windshield screens you can buy. These screens are radiant barriers that perform very well. They reflect the sun's heat away from your car, keeping its inside cooler.
Reflective radiant barriers in your attic act the same way as those car window shields. Your attic can be kept noticeably cooler after installing radiant barriers. As much as 97% of the solar heat beating down on your attic can be reflected, reducing your cooling system's output and saving you money. And the reflective coating works during the wintertime too. It will reflect the heat trying to get out of your warm house back down into the living area.
Why install radiant barriers?
Radiant barriers can reduce your AC spending by 10% or more.
Warmer parts of the country where the AC is used more often can expect greater savings.
Even greater savings can occur if ductwork is present in the attic.
Radiant barrier insulation provides a "silver lining" for your attic

Radiant barriers are a fine investment for your home that work for you 12 months a year. The barriers can save money and energy by improving your home's cooling efficiency during the months you run your AC units. They will also increase your home's heating efficiency during the months you have your heating unit running. Either way, you end up saving by having this energy-efficient attic insulation installed by Halco.
We make it easy and affordable to install attic insulation in your NY home
Call 1-833-844-2622 or send us an e-mail to set up your FREE written estimate for radiant barriers in Syracuse, Ithaca, Rochester and Geneva, Penfield, Brockport, Hilton, Spencerport and all of The Finger Lakes region. We are your trusted contractor for insulation installation, HVAC repair, renewable energy, plumbing, electric services, home energy assessments and more!