Weatherization Experts in The Finger Lakes
We make your home more comfortable and less expensive to heat and cool with our building envelope improvements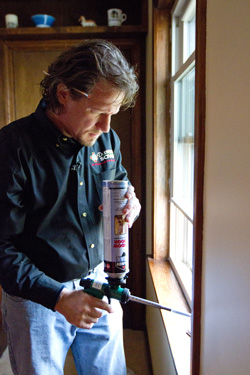 Less leakage = more comfort. Sealing cracks and gaps around window openings is an important weatherization upgrade that can prevent frigid outdoor air from getting into the house during the winter.
The word "weatherize" was first used around 1945, to describe the many different procedures and treatments used to protect a building from adverse weather. Today that definition still stands, but we know a great deal more about how houses perform in all kinds of weather conditions.
We also have an impressive arsenal of weatherizing products. With today's technology, there's no reason to put up with uncomfortable rooms and high utility expenses in your home. That's why we're here to help! Our weatherization services are designed to address energy weaknesses - improving the indoor air quality and overall home comfort.
We offer weatherization services in Rochester, Ithaca, Syracuse and nearby. Call us today to schedule a consultation!
Weatherization work focuses on the "building envelope"
A good way to understand the scope of home weatherization is to focus on the building's skin -what building scientists call the "building envelope."
This structural assembly typically contains wood framing (studs, plates, rafters and sheathing) as well as insulation, water-resistant membranes and finished surfaces (roofing, siding, wallboard). Windows and exterior doors are also included in the building envelope.
Weatherization services from Halco:
Free weatherization inspection.
Free estimates for all recommended weatherization work.
Complete whole-house insulation upgrades.
Seal leaky ductwork.
Weatherstrip windows and exterior doors.
Air seal around interior trim.
Air seal electrical outlets.
Seal & insulate the basement rim joists.
Air seal recessed lights.
Complete attic air sealing.
And more!
Most houses have too little insulation and too many air leaks
6 signs that your home needs weatherization improvements
Rooms become too hot or too cold at certain times of the year.
You can feel cold winter drafts in different parts of the house.
Worn or missing weatherstripping around an exterior door.
High utility bills for heating and cooling.
Recessed ("can") lights in the ceiling directly below the attic.
Inadequate attic insulation (less than 12 in. of fiberglass or cellulose).
Research by the U.S. Dept. of Energy tells us that many households use twice as much energy (including electricity, natural gas, propane and fuel oil) as they should.
Much of this wasted energy is due to leaky and poorly insulated building envelopes that force HVAC systems to consume excess electricity and/or fuel. You can detect these building envelope problems by looking for any of the following 6 symptoms.
We're Rochester's experts for quality, affordable weatherization improvements
Weatherization problems occur because builders aren't required to seal energy-wasting air leaks or install more than minimum levels of home insulation during construction. But this doesn't mean you have to put up with uncomfortable rooms and high utility bills.
Halco's highly trained weatherization installers and technicians can transform an uncomfortable, energy-wasting house into a comfortable, energy-efficient "green" home.
Call us today to schedule a weatherization estimate
Using some of the best performing materials available (caulk, spray foam, different types of insulation, door sweeps, weatherstripping, gaskets and more), Halco can complete all the weatherization upgrades you select.
Wouldn't you like your house to be more comfortable and less expensive to live in and own? Get started today by calling 1-833-844-2622 for a weatherization evaluation and estimate.