Installing Insulation for the Attic in Greater Ithaca, Rochester & Syracuse, NY
We choose the best insulation for your attic: We install blown-in, foam board, cellulose insulation & more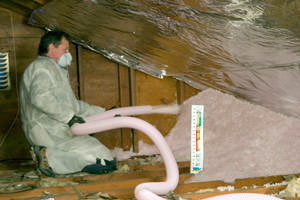 Blanketing an attic. Blown fiberglass is an excellent way to insulate your attic. A shredded fiberglass or cellulose is blown across the attic floor, as the primary insulation or in addition to existing insulation.
The heat that rises up through your house and exits through the attic is a major factor in energy loss and heating and cooling expenses. Proper attic insulation is essential and cost-effective.
Many attics have insulation already installed. But it was put in incorrectly or without thought to the correct R-value for the space. The R-value on a majority of homes in the country stands at R-19 or lower.
The proper R-value for attic insulation in and around Rochester, Ithaca, Syracuse, as recommended by the U.S. Department of Energy, is between R-49 and R-60; quite a distance from the reported average!
That's the equivalent of going outdoors in the middle of December without a jacket on...or a shirt!
We can upgrade your attic insulation
Most attics are already insulated, but if insulation levels are too low, even insulation with a high R-value won't work like it should. If you look across your attic and you can easily see your floor joists, more attic insulation is needed. The professionals at Halco can help you make a decision about the type of insulation to install.
Our New York service area includes Ithaca, Rochester, Syracuse and Webster, Lansing, Fairport, Auburn, Cortland, Canandaigua, Pittsford, as well as surrounding towns.
Save up to 20% or more in heating and cooling costs with a properly insulated attic!
Seal air leaks to reduce drafts, add more insulation to get a comfortable home year-round, save money and energy with Halco! Schedule a no cost home insulation estimate or comprehensive home energy assessment and start seeing the difference an insulation upgrade can make.

Importance of Air Sealing and Insulating Attics
Larry Janesky explains that insulation is also needed in warmer areas. Insulation prevents heat transfer. It prevents hot air from being transferred to the outside in the wintertime, and prevents the attic's scorching heat from being transferred into the living areas of your home during the summer.
First? Air sealing. Next? Insulating the attic.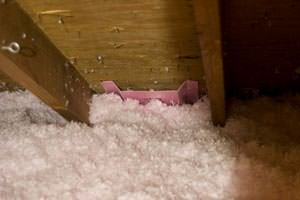 Attic ventilation; a "baffling" concept. Baffles; rigid spacers that fit between attic rafters, provide proper airflow when extra insulation is put into place. Baffles help prevent attic moisture and can put an end to ice damming.
Heated or cooled interior air, called "conditioned" air, leaks upward through the dozens of holes that exist in a home's envelope. That conditioned air rises and escapes through the attic. Sealing those openings and halting the escape of conditioned air is an important step in the total insulation procedure. Air sealing can also help prevent attic mold, which is caused by warm-conditioned air leaking into the attic.
After the air sealing has been completed, insulating can take place. As long as the existing insulation that was re-adjusted is in good shape and not damp or compacted, it can be re-installed and improved with the new insulation.
Not sure which of our services is right for you? Contact us to meet with one of our home insulation experts who can discuss all the options for upgrading home insulation or other energy-saving improvements like HVAC repair, plumbing, electrical and more. We install insulation for the whole home including the attic, basement, crawl space, and more.
Start saving with insulation installed in your Finger Lakes home by the energy experts at Halco
Call 1-833-844-2622 or e-mail us to set up an appointment for your attic insulation estimate. We serve in and around Syracuse, Ithaca, Rochesteras well as Geneva, Penfield, Brockport, Hilton, Spencerport.