Blown-in Insulation Contractors Serving The Finger Lakes Area
We install blown cellulose insulation in New York
Watch this video about improving blown-in fiberglass insulation with blown-in cellulose insulation.
Blown insulation is a very effective and easily-applied solution to the problem of having a poorly insulated attic.
As the U.S. Dept. of Energy has reported, most of the attics in the country aren't sufficiently insulated. The average home attic has an R-value of R-20 or lower. It is recommended that attic insulation be rated at R-49 or higher.
The professionals at Halco can evaluate your home's insulation and then offer the best ways to upgrade it and make it more efficient.
We are the insulation company to call to save energy!
All it takes is a phone call or e-mail to set up your FREE insulation estimate. Blown insulation works well on its own or accompanying fiberglass batt when insulating an attic in Rochester, Ithaca, Syracuse or Lansing, Webster, Auburn, Fairport, Pittsford, Cortland, Canandaigua.
Before installing blown-in attic insulation it's important to seal air leaks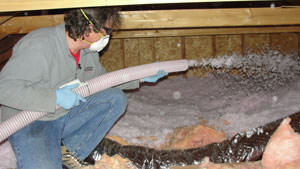 Contractors can add multiple layers of blown insulation to your attic. But if there are numerous unsealed air leaks, then that insulation isn't doing much to conserve heat. Air leaks account for much of a home's energy loss. Heated air from the living space below rises up through the holes and gaps around pipes, electrical wiring, and lighting fixtures, and escapes up through your roof.
Experts estimate that by air sealing your attic followed by upgrading attic insulation, you can cut your HVAC costs by up to 40%. So, you're adding comfort to your home and saving money on your monthly heating and cooling bills. That's not a bad combination!
What is "Blown Insulation"?
Primarily, there are two types of blown insulation: Fiberglass insulation and cellulose insulation.
Both are lightweight and both have about the same R-value. They get the name "blown" from how they are applied.
A machine sits outside the home that is to be insulated. This machine shreds the insulation and then blows it through a flexible tube to the attic where a contractor directs the material to where ever it is needed. Blown insulation can be used by itself or more often, in combination with existing insulation.
After the installation is complete, there is no maintenance or upkeep involved. The entire procedure — air sealing and insulation installation — can usually be completed in one day.
Our expert insulation contractors can inspect and install insulation to improve comfort and energy efficiency
Halco offers a FREE home insulation estimate to homeowners in its service area. We evaluate your home and recommend what upgrades can be made to improve your energy savings and overall comfort. This could mean adding more insulation in the attic, basement or crawl space; or upgrading your water heater or air conditioning system. Contact us today to meet with one of our insulation specialists or to discuss other options for saving energy.