High-Quality Replacement Window Options in The Finger Lakes
Undecided on which replacement window to pick? Let Halco help!
Watch how high-efficiency replacement windows enhance the comfort of your home.
Once you've made the decision to have replacement windows installed, you'll need to decide what type of windows will be best for your home.
Just like new windows, replacement windows are made from different materials, and it's helpful to understand the pros and cons of these materials.
No matter which window frame material you choose for your replacement windows, make sure that your new windows have earned the ENERGY STAR® rating to ensure superior energy efficiency.
Tax rebates and other incentives may be available for replacement window installation using ENERGY STAR® products.
Halco is your local replacement window expert in New York. Call us today to schedule a free estimate in Rochester, Ithaca, Syracuse or any area nearby!
The benefits of different types of window replacements: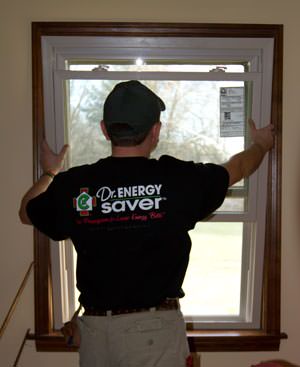 New inside the old. A replacement window is sized and designed to fit inside the jambs of the old window, after the window sash and stops have been removed.
Vinyl replacement windows are becoming more and more popular because they are usually more affordable than other types. The vinyl extrusions used for the sash and frame are hollow, but reinforced with internal braces that provide extra strength. Depending on the manufacturer, the vinyl will come in white only or a limited number of colors, but the material is paintable. Vinyl won't rot, warp or be damaged by moisture or exposure to sunlight.
Fiberglass replacement windows are similar to vinyl units in appearance and construction. Fiberglass is slightly stronger than vinyl, and will not expand or contract as much in response to temperature changes, but it's also more expensive. Like vinyl, fiberglass is paintable and can't be damaged by mold, moisture or sunlight.
Aluminum replacement windows are more common in commercial than in residential applications. Aluminum conducts heat more effectively than wood, vinyl or fiberglass, so it's not good for energy efficiency unless thermal breaks are installed. This can make good-quality aluminum replacement windows more expensive than other types.
Wood replacement windows usually have their exterior surfaces protected with a thin cladding made from aluminum or vinyl, so they're often referred to as "aluminum-clad" or "vinyl-clad" windows. Since wood requires maintenance (painting or finishing) and can be damaged by moisture and UV exposure, these replacement windows are most likely to be used in historic houses or when the homeowner wants the look and feel of real wood.
Need replacement windows for your home?
Here's something you may not expect - you may not need to replace your windows after all. If you want to save energy, replacing windows is not the number one place to start in 99% of cases.
Sealing duct work and adding more insulation in the right places will have a far greater benefit and rate of return than replacing all your windows.
How do you know what's right for your home? Halco can perform an energy evaluation, or energy assessment, of your home to see what the priorities are. There's little sense in doing the number 6 priority work when 5 more important things go untouched.
Reasons to replace a window with energy efficient windows
The glass. Clear glass in old windows allows heat from the sun to heat up your house in the summer, causing you to use electricity to run the AC. It also allows heat from inside in the winter to be lost to the outside. Low E glass in a modern energy efficient window stops the flow of 60% of this heat. Low E glass is slightly tinted, like sunglasses, by a metallic coating in the inside of the glass. Double pane glass helps heat losses too, and the space between it can be filled with argon gas, which doesn't transfer heat through the space like air will.
Vinyl frames. Vinyl never needs paint and won't rot, chip or peel - the perfect material for a window frame. The low maintenance of vinyl keeps it looking great forever and saves you the cost of repainting your frames.
Lower U value means higher R value. Great windows have a U value of .30 - the lower the better! If you divide the U value into 1, you get the R value. So a window with a U value of .3 will have an R value of 3.33. It doesn't sound like a lot when compared with an R13 wall, but glass will always be the thermal weak spot in a wall no matter what you do. Compare this R value of 3.33 with an old window that may have a U value of .8 - which would be a R value of 1.25 - and you start to feel pretty good.
Foam sealant around the window. The best replacement window in the world will leak air if it's surrounded by fiberglass. Fiberglass in a shim space is nothing more than an air filter. Windows must be sealed around with foam in the shim space to perform their best.
Start saving energy with our window replacements
Call 1-833-844-2622 or contact us online to schedule a free estimate on window replacements. We also offer comprehensive home energy assessments to detect where your home is using and losing energy in other places. If you live in Lansing, Webster, Auburn, Fairport, Pittsford, Cortland, Canandaigua or any surrounding area of NY, contact us today!