Replacement Sliding Glass Doors in The Finger Lakes
Improve your home's beauty, energy efficiency and convenience with new sliding glass doors from Sunrise
Sliding glass doors (also known as sliding patio doors or simply sliding doors or sliders) are an important feature on many houses. But as many homeowners discover, older sliders are likely to develop a range of problems.
Do your older sliding glass doors have any of these problems?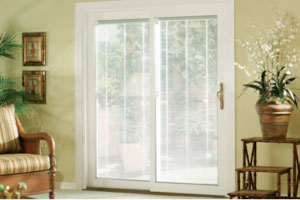 Lasting beauty & reliable performance. Sliding doors from Sunrise feature maintenance-free vinyl frames engineered for durability and energy efficiency. New Sunrise sliders also come with a lifetime warranty.
Cold drafts can occur during winter months. This happens because of poor door design or worn weatherstripping.
Poor energy performance is a problem in older doors that aren't manufactured with frame insulation or high-performance insulated glass.
Difficult operation results from a worn or poorly designed sliding mechanism.
Missing or damaged door screens are common problems with older sliding doors. Older door screens are often discarded when their rollers jam or when screens are damaged by pets.
Peeling paint or wood decay. Sliding doors with wood frames need to be repainted at regular intervals. Older wood doors can even have wood rot.
If you have any of the sliding glass door problems mentioned above, why not eliminate them by having new units installed? The Sunrise sliders available from Halco incorporate the most advanced glazing technology and are made utilizing the best materials and manufacturing techniques. We offer free estimates to customers in The Finger Lakes - schedule yours today!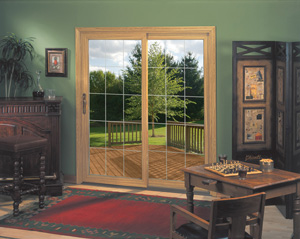 Pick your finish. Standard white and several different wood grain finishes are available when you buy new Sunrise sliding glass doors.
Check out the benefits of Sunrise sliding glass doors
Lifetime warranty
Durable, maintenance-free vinyl frames
Superior energy efficiency
Different color & wood grain finish options
Durable, jam-proof door screen
3-point locking mechanism
SolarClean™self-cleaning glass
Hardware options
Expert installation
Do away with sliding door problems with our help
Halco's sliding doors by Sunrise are the best option to replace your old, dysfunctional door. Call us at 1-833-844-2622 or contact us online to schedule a free estimate for replacement doors! We offer free estimates along with home energy assessments to customers in Ithaca, Rochester, Syracuse and areas nearby.