Watch My Video
Customer Reviews
About Me
By Janice B.
Lodi, NY

"He took a lot of time to evaluate the home. Good job!"

By Terry L.
Romulus, NY

By Tom F.
Geneseo, NY

"Kept me informed, had a plan for how project would go, uniformly good people who knew their jobs."

By Donna And Chris O.
Moravia, NY

"Everything was great! Even when we kept coming up with more questions, everyone we dealt with was extremely courteous and..."

By Donna &.
Moravia, NY

"Jacob was wonderful, very professional, pleasant and informative. He explained so much to us and even answered ALL of the..."

By Pat K.
Moravia, NY

"Communication with us was excellent. We were pleased that Halco handled the permits. We found your staff to be professional and..."

By Jacob B.
Union Springs, NY

"Things that went well: Bill's thorough knowledge and answers to my question. Marty's smile and positive demeanor every morning..."

By Jacob B.
Union Springs, NY

"Things that went well: Bill's thorough knowledge and answers to my questions. Marty's smile and positive demeanor every morning..."

By Gerald W.
DeRuyter, NY

"Overall extremely satisfied with the first step of our project."

By Nathan & Angela D.
Victor, NY

"Jacob (sales/home energy audit) was very thorough, knowledgeable, and honest. Installation team was respectful and went the extra..."
Meet Our Team
Jacob Clyde

from

Halco
Title:
Home Energy Advisor
Email: jacobc@halcoenergy.com
In 2014, Jake became a Halco team member, bringing a great deal of experience in general construction, roofing, and customer service.
As a home energy advisor, Jake spends his workday running energy audit leads and solar only leads. Jake then follows-up with his customers to give recommended improvements and serves as a direct contact in helping the customer make an informed decision. Whenever he passes by the Phelps office, Jake makes a point to stop by for a Jolly Rancher from Lori.
Speaking of his position at Halco, Jake states, "I really love meeting great forward-minded people in the Finger Lakes Region and building neighbor-like relationships. Also, just as important are the environmental benefits to all we do at Halco — constantly cutting back on fossil fuels and going green!"
In his spare time, Jake enjoys hiking the 46 major peaks in the Adirondacks, water skiing in the summer and downhill skiing in the winter. He also plays volleyball year-round and tries to make it to at least one Yankees game per year. If he's not working or playing outside, you will likely find Jake spending quality time with his family. Jake says, "Whenever I can spend a few hours with my family, it's certainly time well spent!"
Fun fact about Jake: He played t-ball as a kid and "Halco Heating & Plumbing" was his sponsor. I wonder where that t-shirt is...
Videos from projects I was involved with: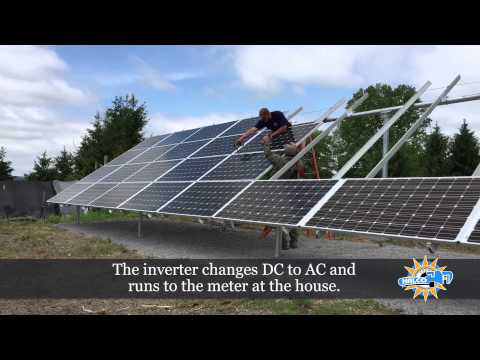 Solar Panel Installation Moravia, NY
This time-lapse video shows the installation of a ground-mounted solar panel system. The process starts with...
Watch Video
Related Videos
Before and after photos from jobs I've worked on:
Before

After

These Moravia, NY customers decided to go green to offset their dependency from the local utility company. To help do so, Halco solar technicians installed a 12.54 kW solar electric system. Designed as a 44 panel ground-mounted array, this system should generate approximately 14,179.6 kWh per year.