Watch My Video
Customer Reviews
About Me
By Jerome W.
Addison, NY

By David T.
Horseheads, NY

"Project plan, project timing, installation process, cleanup, electrical inspection - all aspects went according to plan. Steady..."

By Charles S.
Horseheads, NY

By James L.
Van Etten, NY

"Careful work, confirmed performance and documentation. On time arrival and completion. "

By Vladmir B.
Spencer, NY

By Melynda & Enrique W.
Ithaca, NY

"Josh has been here twice. We think he's great. Thorough, clean, skillful. He's a keeper!"

By Candace F.
Trumansburg, NY

"Start to finish- we were kept informed and questions were answered. Installation and cleanup were amazing!Thank you!! Now keep..."

By Piers B.
Dryden, NY

"The small "extras" you did for me. "

By Donald R.
Interlaken, NY

By Jacob K.
Genoa, NY

"Project was completed faster than expected. Each phase of project had a different contact person and all were very professional."
Meet Our Team
Joshua Monroe

from

Halco
Title:
Renewable Energy Administrative Coordinator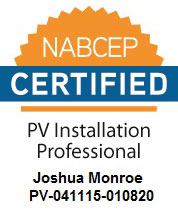 Email: joshuam@halcoenergy.com
Before joining Halco in 2014, Josh was busy earning his Bachelor of Technology in Renewable Energy from Morrisville State College.
As a solar project coordinator, Josh is responsible for taking any solar service calls from customers. He is always very enthusiastic about his work, making sure the customer has all questions and concerns taken care of. In addition to service calls, Josh performs Quality Assurance Inspections for newly installed solar arrays and compiles system manuals to ensure each customer fully understands their new system.
On his position at Halco, Josh likes traveling around Halco's 16 county service area and meeting new people. In his spare time he enjoys hiking and engineering things.
Certifications:
NABCEP Certified PV Installation Professional™
Videos from projects I was involved with: